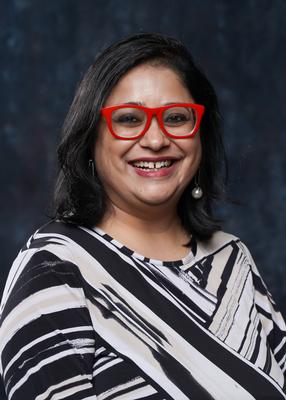 Sipra Singh is a pastor's wife, loves the Lord and believes that our lives need to reflect our testimony. She is a diligent professional who has consistently been recognized as an efficient worker by her employers and coworkers. Over the course of her 18+ year career, she has developed a skill set relevant to teaching various levels of learners from Adult learners to Middle and High School students; including adaptive teaching methods, classroom management and curriculum development among others; all while keeping the teaching - learning process, student centered. Overall, she has consistently demonstrated leadership, teamwork, interpersonal and effective communication skills and abilities in every aspect of her teaching role. She serves or has served at Eagles Nest Christian Home Schoolers Association, The Greenhouse Christian Learning Co-op, Coweta County School system, West Georgia Technical College, and St. Xavier's School (New Delhi, India).
She has a Masters degree in English Literature, a Bachelor's degree in Education and a Bachelor's degree in Science with a major in Home Economics. She has undertaken various courses in American Sign Language: ASL I, II and III and currently is pursuing her study of American Sign Language and Deaf Culture.She created the Deaf Culture course at EN and is passionate about taking the Gospel to the Deaf community. She partners with various local, national and international organizations to promote the Gospel and work with the Deaf community.
She has been teaching Public Speaking & Communication Strategies to students since 2005. She is credited for developing a Language Lab and a curriculum for Public Speaking & Communication Strategies at St.Xaviers School, New Delhi. She is well versed in the International Phonetic Alphabet and works to develop effective communication skills among students. Her goal is to see her students excell not only in their academic profiles but in all aspects of their life; so she comes comes alongside them to encourage, educate and help them reach their full potential.
Current Classes
ASL 1 & Deaf Culture – (closed)
ASL 1 & Deaf Culture - *COPY* – (open)
ASL II & Deaf Culture – (closed)
ASL II & Deaf Culture - *COPY* – (open)
MS Intro to American Sign Language (Semester 2) – (closed)
MS Intro to American Sign Language (Semester 2) - *COPY* – (open)